Hello! What's your background, and what are you working on?
I'm Andrew Kamphey. I curate a weekly newsletter on the influencer marketing industry called Influence Weekly. After working in the industry for a couple of years I wanted to level up, but wasn't sure where to go. I compiled a list of 70 good resources and started documenting what I was reading each week.
I feel that Influence Weekly is the week's most insightful, data-informed influencer marketing articles. It's like a weekly state of the industry report. My readers range from executives, to CMOs and VPs of Marketing at companies who do use or want to use influencers, to influencer marketing agencies love to keep tabs on their competition, to Influencers and those who represent them.
On average I'm making $704 per month. This goes up and down as I do ad sales. As of my lest check, I have 6,073 Subscribers.
What motivated you to get started with Influence Weekly?
I was already working in the industry, doing pricing and analytics, but I wanted to look further out and compare our work to others. I guess I generally wanted to see if our work was better or worse than industry average.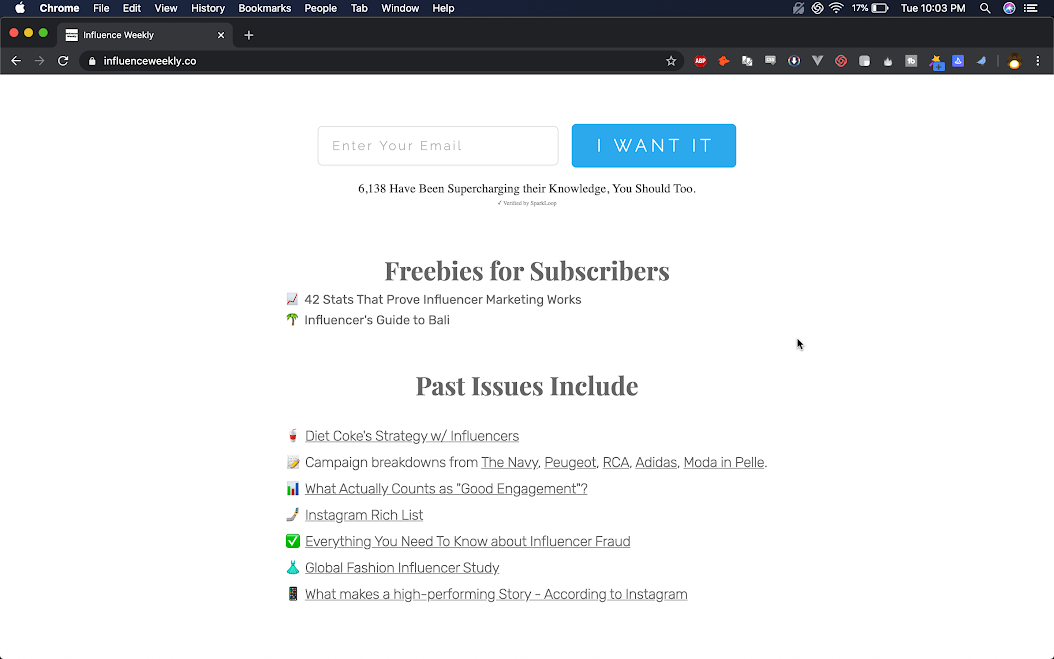 It was hard to find consistent good work. As I read more and more in my spare time, I found myself sending more and more emails to the executives at my company. That's how I got the idea of compiling it into a single email each week.
I also wanted to keep track of what I read on a week to week basis. I could have kept a pocket, or a google sheet. Now I guess I'd have a Notion or a Roam research doc. But at the time I thought others would like this too.
What went into building the initial product?
It took one long weekend to start. Using Carrd for the landing page, I created an issue zero and sent it out to 20 people I respected in the industry, then asked them if I missed anything.