The Zerodha Business Model – A Wonderful Business
The Zerodha Business Model looks very similar to other amazing cash flow businesses across the globe. It generates an immense amount of cash every year for Zerodha and its founders. While it has made the founders immensely wealthy, it has also brought incredible convenience to its users and low fees to everyone who uses the product and platform. How does this wonderful business model work? How does it make money while it charges hardly any fees to most retail investors? Therein lies the crux and the genius of things.
In this post, we will examine how the Zerodha Business model works, how it makes money and how it gets all of these right, and why it continues to enjoy these advantages. Before that, a bit of history.
How Zerodha started?
Nithin Kamath is an engineering drop-out who never completed his engineering. He picked up trading at a young age and was reasonably successful at trading options and futures. Nithin went bankrupt twice during his career and when he was back in profit again the 3rd time, he decided to take that money and build a brokerage firm. While he professes that his presentation skills were poor and he had no idea how to pitch his idea to VCs and investors, he had 2 things going for him which meant that the odds of succeeding were in his favor.
He had hundreds and thousands of followers on Yahoo groups. To add to that, he had a corpus in excess of Rs.1 Crore which was enough to start a brokerage business. The corpus helped him meet the net-worth criteria necessary to get a regulatory license. And the following he had online helped him get early customers. By his own admission, the first few hundred customers were all onboarded manually by him.
The Turning Points for Zerodha's Growth
A comparison of rates charged by various brokerages in India is shown below. What is obvious to anyone is that Zerodha charges the lowest. It is beaten only by UpStox and GroWW (not on this list) which have both raised VC funding and manage to offer low rates on the back of VC funding. Further, UpStox and GroWW have only started aggressive marketing recently after Zerodha showed what was possible. They are emulating The Golden Triangle business model perfected by Zerodha.
Turning Point 1 – Mobile Apps and Tech
According to Nithin Kamath, the 1st turning point for Zerodha happened when Kailash Nadh, or Mr.K as he is fondly called approached Nithin. Mr.K, a recent US returnee around 2012-13 pitched to Nithin there was an opportunity to build a tech product for Zerodha. He proposed a set of apps now known as Kite and Coin to provide a great user experience. It was designed to make retail users buy, sell and trade in a simple, clutter-free manner. While there were hordes of such apps in the US, the Indian market was yet to see such apps. Kite and Coin turned out to be revolutionary. The chart below shows the growth of Zerodha's client base from 2014-2021.
Now, lets take a look at another chart – this one about the state of their financials:
Turning Point 2 – Zero Brokerage
The 2nd turning point for Zerodha happened when they launched zero brokerage purchases. This was applicable for delivery purchases or long term investments. For Futures & Options Trades and same day trades, the brokerage was Rs.20 per order. The chart below shows their pricing model. In a market saturated with brokerage fees ranging from 0.15% to 1.5%, this came as an amazing offer.
Traders run on wafer thin margins. Paying 0.15% one way means an entire intra day trade can end up costing 0.30% of the investment. Meaning, if you invested Rs.1 Lakh and made a profit of Rs.10,000, you pay commission on Rs.1 Lakh and not Rs.10,000. This can hurt profitability and end up costing a lot.
Turning Point 3 – Digital Bharat
The 3rd Turning point came from the digital revolution unleashed post demonetization in 2016. The digital revolution provided firms like Zerodha to carry out KYC verification digitally. This reduced onboarding time to minutes. In a single month, Zerodha signed up more than 80,000 users which originally took them years.
How does Zerodha Make Money?
The Zerodha Business Model begs the question – how does Zerodha make money? Zerodha makes money by focusing on enabling millions of trades per day. With a Rs.20 per trade fee, traders don't feel pinched and hence end up making more trades. It is like building a toll booth and charging low toll fees. If the fee is high, you attract a different set of people. If the fee is low, your traffic goes up enormously.
If you follow Nithin Kamath on LinkedIn, you will get an insight into his philosophy. The following quote sums it up best: "We get asked often how is Zerodha profitable when most new-age companies aren't. The answer is simple: our cost of acquisition (CAC) is 0. If we had to spend heavily, we wouldn't be.
CAC at 0 is a philosophical decision, a bit like Dr K or Kailash Nadh on hiring & building products"
Innovating with the World and not within
A common mistake most startups make is build everything within. Another mistake they make is to guard their user base. At certain points, these are seemingly right goals. However, longer term, this can be self-defeating. No firm or company can guess or take advantage of everything the market throws up. And therefore, innovating with the market is a great strategy.
This goes beyond the vaunted term – partnering. Nithin Kamath has mastered it into an art. Through an initiative called Rain Matter, Zerodha invests and promotes startups that add enormous value to their users. A chart below depicts a set of those startups that include Zerodha and non-Zerodha products.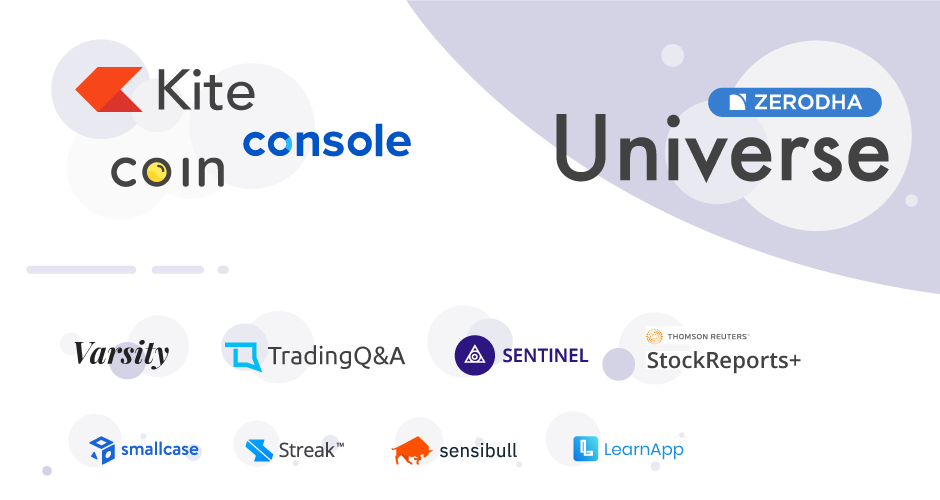 These products are deeply and appropriately integrated with Zerodha's products and their impact cannot be understated. This ensures longer user stickiness and higher user value.
The Golden Triangle
As one can see from the above, Zerodha is a great example of The Golden Triangle Business Model. With regulatory barriers and a huge user business, it enjoys an amazing moat. It provides amazing value to all its stakeholders – traders, investors, the investors, regulators and everyone else associated with the platform. More importantly, it does it by being highly profitable generating boat loads of cash for its investors. At its heart, Zerodha has embraced a paradox – profit and growth. In a country where loss making unicorns are being minted everyday, Zerodha stands as an amazing example of a great business. And one that has created an amazing Golden Triangle Business.
Creating The Golden Triangle Business Model
Creating The Golden Triangle Business Model takes patience, observation of user habits and taking advantage of hidden industry advantages. These are not evident from the outside and most likely, will not be visible unless one has put in a lot of work understanding that industry objectively.This is encapsulated in what is commonly called "Founder Market Fit". Nithin Kamath had it – he had gone bankrupt twice as a trader and had a point of view different from the market. When opportunity met preparation, the model struck gold. Next week, we will discuss another company that has created The Golden Triangle Business Model.